https://westofifield.commonplace.is/news/24/07/2020/transport
---
Community engagement is vital to help us understand your concerns and get your input on how the new neighbourhoods should be designed. During our consultation we asked a series of questions on our feedback forms to get your insight and local knowledge. One of the questions we asked was "What do you think is important for how people move around the new neighbourhoods and to the surrounding area?"
Read our most recent update to find out more about the responses to this question and our plans to respond to the feedback received.
Transport
Posted on Jul 24th 2020 by West of Ifield
A frequent question raised during the public consultation was about how the roads and public transport infrastructure will accommodate future demand from the proposed scheme. During the consultation and feedback, residents particularly noted the potential for increased traffic, an issue mentioned by 16 respondents.
Some of the comments regarding traffic were:
"The immediate infrastructure link from the neighbourhood to surrounding areas MUST allow the traffic/transport to move freely"
"The roads are unable to support all the traffic now"
"Uplift existing traffic congestion hot spots"
Community engagement is vital to help us understand your concerns and get your input on how the new neighbourhoods should be designed. During our consultation we asked a series of questions on our feedback forms to get your insight and local knowledge. One of the questions we asked was "What do you think is important for how people move around the new neighbourhoods and to the surrounding area?" These results show that people want more sustainable, alternative methods of transport such as walking, public transport and cycling over traditional transport means i.e. driving.
The move towards the use of more sustainable transport is aligned with the Government's ambition toward zero carbon as well as the wider objectives of both Horsham, Crawley and West Sussex councils.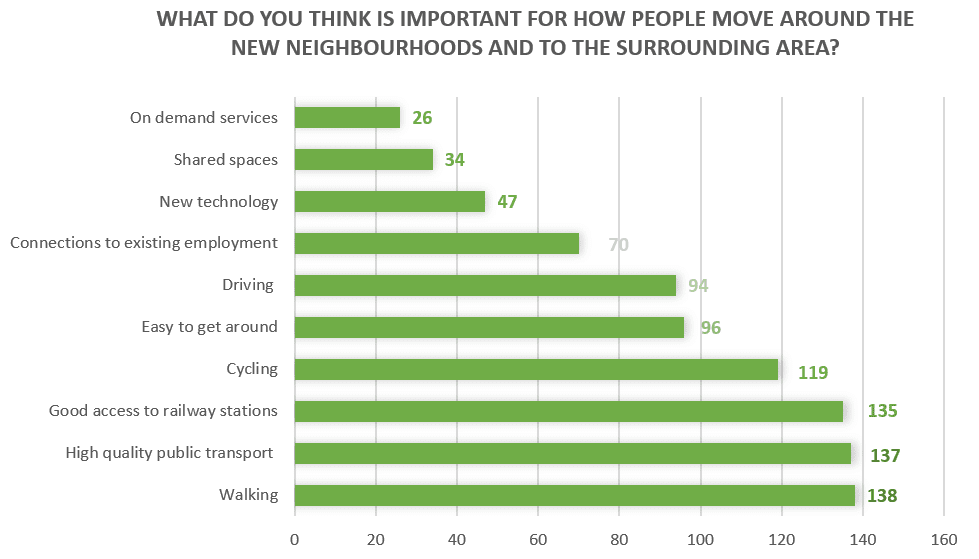 What work are we doing to understand and respond to the issues raised in this feedback?
As part of our transport plans, we have adopted a low carbon movement strategy that prioritises a reduction in the need for new residents to travel, then increases access to and promotes the use of sustainable transport modes, facilitates the use of low carbon transport (such as private electric vehicles) and finally considering the need for wider infrastructure upgrades.
We are embedding this low carbon transport strategy through our plans by:
Providing increased employment in close proximity to the new homes we will reduce the need to travel for work.
Providing quick and safe access that allows people to access the rail stations at Ifield and elsewhere on the Arun Valley Line.
Promoting the use of new, environmentally friendly technology by providing electric charging points for a wide range of electric vehicles so that they are convenient and accessible.
Designing an environment that supports active travel (walking & cycling) so that people feel safe and able to do so.
Providing a central walking, cycling, public transport link through the development that provides rapid access between homes, jobs and other day to day needs as well as the wider area.
Delivering the infrastructure needed to accommodate sustainable transport needs such as Fastway bus services, cycling storage facilities and car clubs.
Prioritising the use of sustainable transport and where possible restricting access for private cars to discourage their use.
Undertaking a Transport Assessment to identify the impacts of the scheme and to identify any necessary upgrades on the surrounding highway network.
As we continue to develop our plans, we will continue to work with local highway authorities to identify an appropriate delivery strategy for the scheme, that achieves the above measures and ensures that any impacts on the wider transport network are addressed.
You can find more information about our plans for movement and transport in our Q&A document here.
Over the coming weeks we will be posting more about the key issues that came out of our public consultation. We have already posted an update open spaces and working, available to view on the news page, and we will be providing further information on local services and community infrastructure in the coming weeks.
If you have any questions about the information provided, the consultation or the proposals please get in touch at westofifield@homesengland.gov.uk or 020 8629 7209.