By Jennifer Scott
Political reporter, BBC News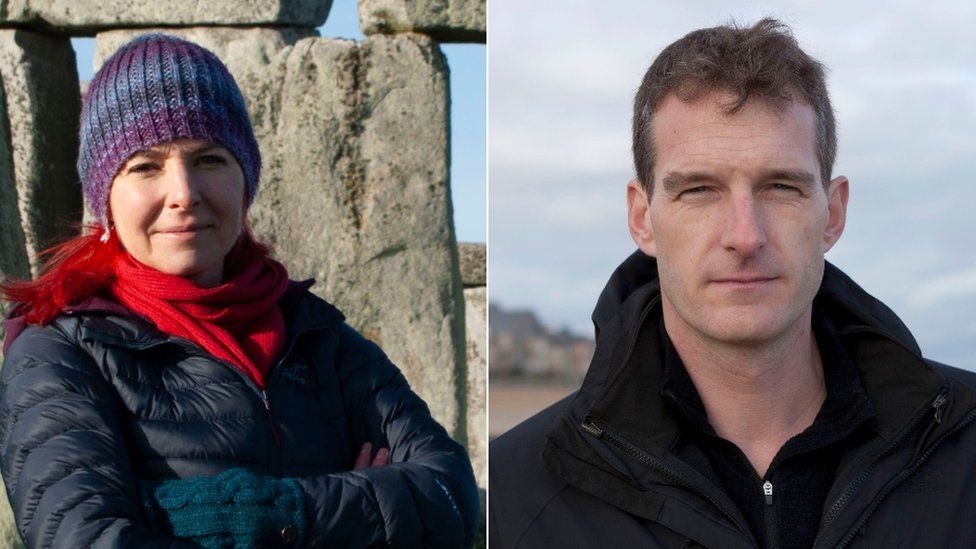 Historical discoveries could be at risk if government does not put archaeology at the heart of its new planning reforms, experts have warned.
Archaeologists, academics and professional bodies have launched a campaign to ensure their work with developers remains a legal requirement.
It has the backing of TV academics Prof Alice Roberts and Dan Snow, along with a number of MPs and peers.
The government said it was "determined to protect archaeological treasures".
Boris Johnson first announced his proposals for reform of the planning system in England last year, with the aim of stopping local opponents blocking development in designated "growth" zones.
The Planning Bill was then confirmed in the Queen's Speech in May – with the promise of a vote in Parliament in the coming year.
But there has already been disquiet on the Conservative benches over concerns it could side-line locals and lead to a "free for all" for development.
Now archaeologists are concerned that the current rigorous assessments required by developers – laid out in law in 1990 by the then-Conservative government – are missing and they want guarantees the bill will include them, else heritage in the country could be lost.
Dr Chloe Duckworth, who presents The Great British Dig on More 4, co-founded the campaign and told the BBC that without specific mention of archaeology in the Planning Bill, "we could see some of the less conscientious developers trying to save time by avoiding this route – and that could see an absolute destruction and loss of archaeological heritage".
She added: "If we don't have those protections in place then we actually don't know what we are going to lose.
"And that is the key point really. Until you excavate and survey and look at an area in that level of detail, we can't say what archaeology might be there."
'Amazing discoveries'
Her campaign has the backing of academic Prof Roberts, who presents the BBC's Digging for Britain.
"I have just written a book about some important burials throughout Britain and actually quite a lot of the examples are things you just wouldn't have known about, had it not been for archaeologists involved in planning developments.
"One recent one was the discovery of the amazing Pocklington chariot burial – an Iron Age burial in Yorkshire – that was on the site of a housing development, an amazing discovery.
"What having archaeology built into planning means is heritage is treated in a very careful way that we recover as much as we can before any development happens."
Experts warn historic discoveries, like this burial ground in Yorkshire, could be concreted over if archaeologists do not feature in the new planning bill
Historian and TV presenter Dan Snow has also joined the appeal to the government to make sure archaeological work is secured in the planning reforms.
"Planning is always going to be a compromise between the demands of the economy, homeowners, industry, towns expanding, and those of us who wish to preserve the past," he said.
"If we wipe out things of extraordinary value in order to create what we think in the short term will be more valuable, it almost certainly won't be."
He added: "If you look at the destruction of medieval sites in the 19th and 20th centuries, it would now bring in billions of pounds of tourism for example.
"It is a terrible mistake to destroy and disrespect your archaeology and your heritage."
'Greater regard needed'
The Conservative MP – and former archaeology student – Tim Loughton already has concerns about his government's planning reforms, but says he has raised this particular campaign with ministers.
"Archaeology is really important in so many aspects of our lives, it is not just slightly strange middle aged men like me wandering around with a trowel in muddy pits," he said.
"Archaeology is all about showing people their cultural background, it is about education of our children and where they came from. It is a big employer that contributes several billion pounds to the UK economy and it is also a major contributor to cultural tourism as well."
He said the new legislation "needs to take much greater regard to the cultural and heritage importance of some of those areas which are now vulnerable to development".
Mr Loughton added: "I shall be at the forefront of the queue to make sure there are amendments that improve the legislation to take account of our culture and heritage assets before they get concreted over."
This Roman stately home was discovered on the site of a housing development in Scarborough
Rob Lennox of the Chartered Institute of Archaeologists works with the government on legislation and supports the campaign.
He said there are good noises coming from Whitehall about the inclusion of archaeology, but the industry has just not had any guarantees.
"The danger is, as we get close to needing to produce a bill and have the wider discussions around the broad shape of the reforms, that archaeology gets lost between the cracks," he said.
"We just need the message to get across to the highest levels of government that archaeology isn't just a tack onto this system, it isn't something that slows the system down."
Mr Lennox added: "This is fundamentally about preserving our heritage and making sure the planning system doesn't inadvertently destroy that as it tries to create the housing and infrastructure that we need."
'Build on strong protections'
A spokesman from the Department of Communities, Housing, and Local Government – which leads of the planning reforms, said: "We know that our archaeological treasures are irreplaceable and we are determined to protect them.
"Our planning reforms will build on the strong protections already in place – we will continue to work with key archaeological bodies as we develop detailed proposals for the Planning Bill."