The Parish of Ifield
Ifield
Pages 53-60
A History of the County of Sussex: Volume 6 Part 3, Bramber Rape (North-Eastern Part) Including Crawley New Town. Originally published by Victoria County History, London, 1987.
A P Baggs, C R J Currie, C R Elrington, S M Keeling and A M Rowland, 'Ifield', in A History of the County of Sussex: Volume 6 Part 3, Bramber Rape (North-Eastern Part) Including Crawley New Town, ed. T P Hudson (London, 1987), pp. 53-60. British History Online http://www.british-history.ac.uk/vch/sussex/vol6/pt3/pp53-60 [accessed 21 July 2021].
IFIELD
¶The former parish of Ifield, (fn. 1) of which about half was within Crawley new town in 1985, lay on the northern border of Sussex, 6 miles (9.7 km.) northeast of Horsham, and in 1921 comprised 4,134 a. In 1933 it was added to Crawley parish. (fn. 2) When Crawley urban district and parish was formed in 1956 from parts of Crawley and Lower Beeding, 2,114 a., comprising the western half of Ifield ancient parish, were transferred to Rusper. (fn. 3) Much of the eastern boundary of the ancient parish followed the old LondonBrighton road, astride which the village, later town, of Crawley grew up. The present article deals with the history of the ancient parish up to the designation of the new town in 1947, though certain topics, including the history of institutions originating before that date, are treated here up to 1985.
The parish lay chiefly on Weald clay, overlaid in some places by river gravels or alluvium, and varied by outcrops of sandstone, clay ironstone, and Paludina limestone. (fn. 4) Most of the land was above the 200-ft. contour; in the south, south-west, and northwest it reached 300 ft., the south-western corner occupying a ridge of sandstone. Roughly half the area of the ancient parish was built over in 1985, but the north and west parts then remained rural. The parish was drained from south-west to north-east by the river Mole and its tributaries, one of which, Ifield brook, flows past the village; the valleys were marshy in the later 18th century, and may have been so earlier too. (fn. 5) Above the village Ifield brook is dammed to form Ifield mill pond, formerly a hammerpond. (fn. 6) Fish were bred there in 1701, (fn. 7) and the pond originally extended further south-west and south-east than in 1985. (fn. 8) In the mid 19th century it was transected by the Three Bridges to Horsham railway.
Much of the parish was presumably wooded in the early Middle Ages. There was woodland yielding six swine on Ifield manor in 1086. (fn. 9) Prestwood manor in the north-west may originate from demesne woodland (priests' wood) of Rusper priory. (fn. 10) The tithe of pannage was mentioned in 1247. (fn. 11) After c. 1650, and very likely in the Middle Ages as well, some woodland on both manors was commonable. Prestwood common was described as woodland in 1717, (fn. 12) and Ifield wood was one of the commons of Ifield manor from the 17th century. (fn. 13) The two were separated by a gate in 1717. (fn. 14) Demesne woodland was also important in post-medieval times. Timber from Ifield was used in building Nonsuch palace in Cuddington (Surr.) in 1538. (fn. 15) There was woodland and coppice called Bucks wood on the southern edge of the parish in 1695. (fn. 16) In 1821 nearly 1,000 timber trees, mostly oaks, were offered for sale on Ifield Court, Ewhurst Place, and other farms. (fn. 17) At that period the amount of woodland in the parish seems to have been relatively small, (fn. 18) but by c. 1875 much of the north-west corner of the parish was wooded. Shaws, i.e. broad strips of woodland between fields, contained oaks of luxuriant growth in 1830, (fn. 19) and remained prominent c. 1875.
There was much other common land in the parish in the past besides Ifield wood and Prestwood common: Ifield green near Ifield village, of c. 45 a., the appendant Goose and Gossops greens to the south and Soutons and Langley greens to the north-east, West green near Crawley, so called by 1532, and the southern edge of Lowfield heath in Charlwood (Surr.). (fn. 20) Ifield green had several ponds, which in 1761 were being illegally fished. In 1833 the vicar was granted a lease of one of them as a fishpond. (fn. 21) On Lowfield or Lovell heath (fn. 22) near the London road in the extreme north-east corner of the parish stood the County oak, which marked the Sussex-Surrey border until cut down c. 1850. (fn. 23) Most of the common lands of the parish were inclosed in 1855, (fn. 24) but Langley green and the eastern part of Soutons green, though within Crawley new town, remained unbuilt on in 1985. Ifield wood was then still common land, (fn. 25) comprising partly young woodland and partly grass clearings; the road south-west of it, leading towards Bonwycks Place, preserved the wide verge typical of the approach to a common, but gates at the entrances to the common had been removed in the mid 20th century. (fn. 26)
Since 1927 the south-west part of the parish has included the open expanse (131 a.) of Ifield golf course. (fn. 27)
Free warren was granted in the early 14th century over the demesne lands of John of Ifield and Thomas of Poynings. (fn. 28) There may have been a park in 1447-8 attached to Ewhurst Place, (fn. 29) north of which there was apparently a warren. (fn. 30) Ifield park, belonging to Ifield manor, existed by 1453, when it was leased to Richard Saunder. (fn. 31) The Saunder family were still connected with the park in the mid 16th century: in 1533 John Saunder of Park was presented for cutting down oaks to mend the park pale. (fn. 32) The park lay in the north, near Prestwood common and Ifield wood, and between the two roads from Ifield to Charlwood; (fn. 33) Shiremark gate, mentioned from 1560, (fn. 34) apparently stood north of Hyder's Farm. (fn. 35) By 1687 the park was farmland. (fn. 36) In the later 19th century and early 20th there was a new park at Ifield Court, which in 1905 contained 87 a., (fn. 37) and other parks belonging to several of the large gentlemen's houses of the parish. (fn. 38)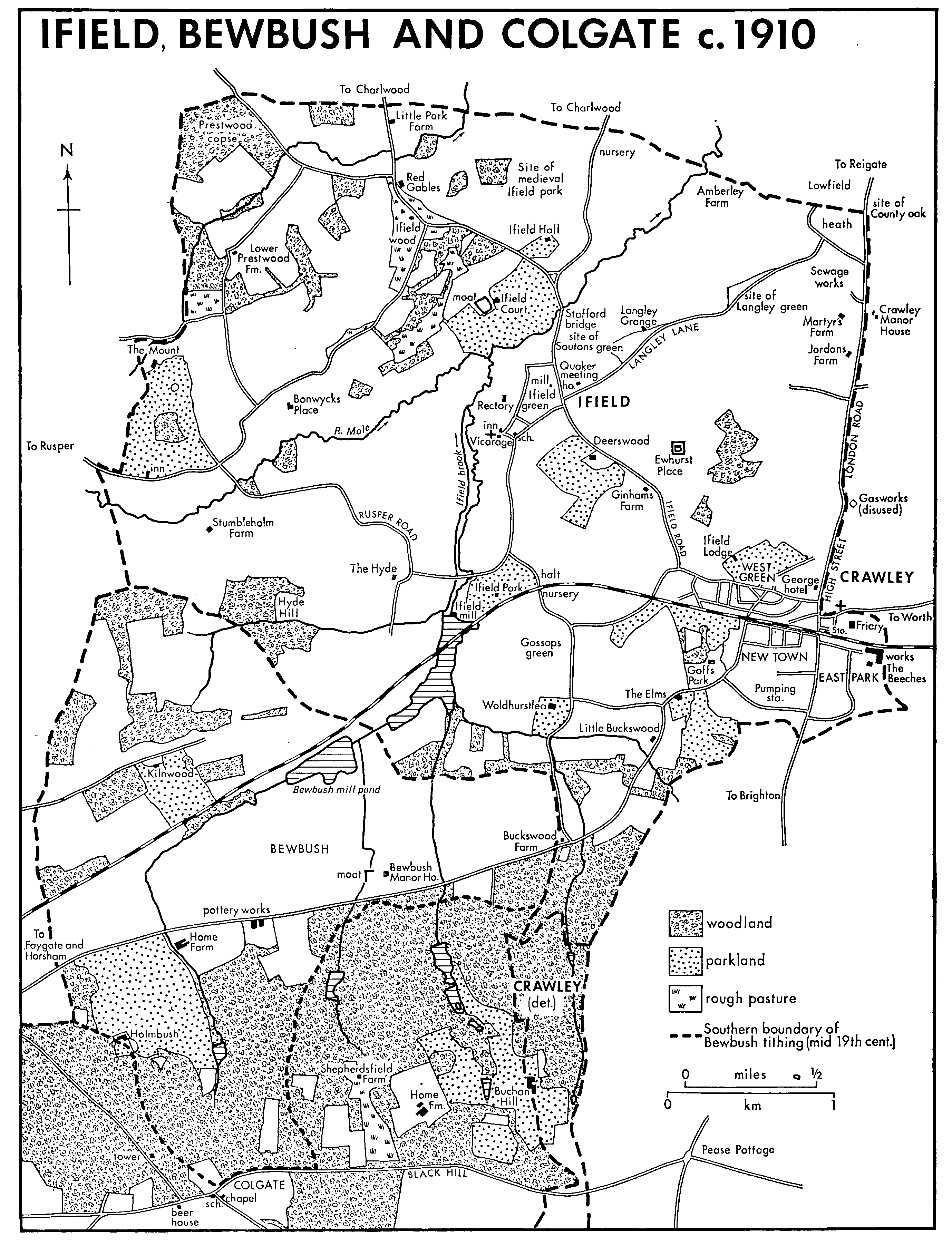 Medieval settlement in the parish was chiefly scattered. (fn. 39) Besides houses described elsewhere, (fn. 40) isolated buildings of the 16th century or earlier include Little Buckswood (Cheals' garden centre) on the Crawley-Horsham road, a two-bayed early 15thcentury house with a later 15th-century cross wing; the Hyde, Rusper Road, originally a three-bayed house with crown-post roof; the Mount Farm, on the western boundary, five-bayed and probably originally with an open hall; Goffs Manor, also on the Crawley-Horsham road, including part of a fourbayed open-hall house; Turks Croft and nearby Brook Cottage in Rusper Road; and three houses near Ifield wood: Red Gables, the former Ifieldwood Farm, with large 19th-century additions, Oak Lodge, a small cottage of two and a half bays, later weatherboarded, and Pockney's Farm, probably with an open hall. Several other houses on isolated sites are 17th- or 18th-century. At Little Park Farm on the northern boundary is a five-bayed 17th-century barn. Some 17th-century or earlier buildings stood along the London-Brighton road north of Crawley village as early examples of ribbon development: Jordans Farm and the Old House were two of them, while Old Martyrs, formerly Martyr's Farm, west of the road is 16th-century.
There is no evidence for a medieval nucleated settlement on the site of Ifield village; the vicar presumably lived near the church, but the manor house stood on higher ground ½ mile to the north. (fn. 41) The group of houses immediately east of the church includes the former Plough inn west of the modern inn, of c. 1600, and the 18th-century Harrow Cottage. Church Farm west of the church is a mid 19thcentury building of red brick. Other houses were built from the 15th century onwards round the edges of Ifield green to the north-east and further northeastwards along the modern Langley Lane and Langley Walk. Meeting House Cottage, next to the Quaker meeting house in Langley Lane, (fn. 42) is a timber-framed, three-bayed open-hall house of c. 1475. Newstead Lodge in Rectory Lane is basically of c. 1600, and Michaelmas Cottage towards the north-east corner of the green is 17th-century. In Langley Lane and Langley Walk are Old Inn Cottage of c. 1600, Apple Tree Farm, which has a 16th-century core with early 19th-century and later additions, Langley Grange, probably of the early 17th century and with a notable stair vyse, and Finches Cottage, timber-framed and originally of the mid or late 18th century. By 1795 there were scattered houses around Ifield green on the north, east, west, and south-west sides. (fn. 43) The group of houses east of the inn and vicarage occupy the south-west corner of the green itself, as encroachments of the early 19th century, (fn. 44) and Church Cottages, the former National school, on the north side of the churchyard, were built in 1843. (fn. 45) The pond which existed at that date east of the vicarage had been drained by c. 1875. (fn. 46) A windmill was built on an island site within the green before 1837. (fn. 47) After the inclosure of the green in 1855 (fn. 48) some houses were put up north-east of the windmill along the Crawley- Charlwood road. Further houses were built along the same road in the early 20th century, both smaller ones around the Royal Oak inn and larger detached ones further north. Later building development before the foundation of the new town was chiefly along Langley Lane to the north-east.
Oak Cottage and County Oak Cottage on the south-west edge of Lowfield heath were built by c. 1700, and by c. 1840 there were other houses nearby. (fn. 49) A few houses had been built near Gossops green south of Ifield village by 1795. By that date too there were buildings around West green near Crawley High Street, (fn. 50) notably nos. 60-2 Ifield Road on the west side, a late 16th-century timber-framed house which in 1985 was hidden behind later buildings. About 1840 there were 10 or 12 houses there, most of which had evidently originated as encroachments on the green. (fn. 51)
The earliest and most important nucleated settlement in the parish was the village of Crawley, which grew up along the London-Shoreham, later London- Brighton, road in the south-east corner. Crawley seems likely to be a medieval 'new town', founded in the late 12th or early 13th century in a detached part of Slaugham parish on the north side of St. Leonard's and Tilgate forests. (fn. 52) During the Middle Ages, however, the settlement seems never to have been more than a large village. Houses in Crawley township and Ifield parish were mentioned in the later 13th century and in the 14th. (fn. 53) The oldest surviving building in the portion of Crawley within Ifield is apparently the George hotel, described below. Nos. 44-8 High Street, on the south corner of Ifield Road, are a 16thcentury timber-framed and jettied house remodelled in the 18th century. (fn. 54) On the north corner of Ifield Road formerly stood a timber-framed house with hall and cross wing, demolished in the 1930s. (fn. 55) A cottage on the south side of Ifield Road not far from its junction with Crawley High Street is possibly 16th-century or earlier. (fn. 56) Nos. 34-6 High Street, south of Ifield Road, are late 18th-century, of red brick. (fn. 57)
In 1795 there were houses on both sides of the London-Brighton road and along the road to Worth, the modern Haslett Avenue, which also lay partly in Ifield parish. (fn. 58) At the north end of High Street on the west side houses were of various dates, including a row of low tilehung cottages and an early 19thcentury stuccoed building with two bow-fronted bays. (fn. 59) The premises of Ambrose Shaw's business north of the George had weatherboarding apparently of the early 19th century but seem to have been older. (fn. 60) During the 19th century the growth of Crawley accounted for most of the increase in the number of houses in Ifield parish; the rate of increase varied from decade to decade, but was over 30 per cent in the 1800s and 1820s, 39 per cent in the 1860s, and 47 per cent in the 1880s. (fn. 61) In the later 19th century and early 20th, many former houses in the Ifield portion of Crawley town were turned into shops. (fn. 62) At the same time some new, purpose-built shops were put up, (fn. 63) together with banks and other commercial buildings. (fn. 64) Some of the houses on the west side of High Street at the north end of the town were demolished in the 1930s to build the row of shops called Grand Parade, and the rest were taken down in the 1950s and 1960s. (fn. 65)
About 1840 the southern limit of the village was approximately where the railway was later built. (fn. 66) The opening of the railway station in 1848 (fn. 67) began the village's metamorphosis into a small town. Church Road, later successively New Road, Post Office Road, and Robinson Road, had been marked out in building plots by 1856, apparently under the auspices of the National Freehold Land Society, (fn. 68) and the road was mostly built up by c. 1875. Another street near the station, apparently Station Road, was being laid out for building c. 1867, when some larger houses had already been built in Brighton Road south of the railway. (fn. 69) By c. 1875 some streets had been laid out and houses built south of the railway and west of Brighton Road; the area was called New Town in 1871. (fn. 70)
During the next 40 years Station Road was built up, and more houses were built in Brighton Road; in New Town Springfield Road and West Street were further developed, and Perryfield Road was cut. Building also began east of Brighton Road, in the area called East Park. Meanwhile, the hamlet around West green was more closely linked to Crawley by the building of Victoria and Spencers roads, and the area west of the green, between Ifield Road and the railway, began to be developed under the name West Park; houses were built in Alpha, Albany, Westfield, and Princess roads by 1895; some in Princess Road are dated 1886, 1897, and 1898. (fn. 71)
Development was carried out chiefly by or for two local building firms: James Longley, later James Longley & Co., and Richard Cook & Sons. Of 656 houses and 172 cottages at New Town and West Green in 1909, Longleys owned 64, especially in the East Park area next to their works, and Cooks 43, all in New Town. (fn. 72) Longleys were also involved in developing West Park. (fn. 73) The areas described had different characters, though the same building materials, red brick and tiles, were used in all of them. The largest houses were built along Brighton Road; most were detached and in their own grounds, and many were in revived vernacular style. The area was described in 1906 as the Park Lane or Belgravia of Crawley. (fn. 74) Several large houses survived there in 1985, mostly as offices, hotels, or institutions: Hazeldene, dated 1896 and the home of the corn merchant Moses Nightingale, (fn. 75) was then a club. In Springfield Road were detached and semidetached villas of middle-class character (fn. 76) including, later, West Crawley vicarage. West Park, on the other hand, had chiefly terraced and semidetached houses and cottages, many of artisan type, while the East Park area ranged from terraces in the north to large detached houses at the southern end.
In the 1920s and 1930s further building occurred within the areas described, Goffs Park Road south of New Town, where development had begun by 1895, being then chiefly built up with large detached houses. Meanwhile other new houses were erected along the main roads in Ifield parish leading out of the town; many in Ifield Road, for instance, were put up c. 1924 by Horsham rural district council, (fn. 77) and by 1939 the road was built up as far as the new bypass road.
Renewed ribbon development along the London- Brighton road north of Crawley followed its turnpiking in 1770; (fn. 78) in 1932, however, the west side of London Road was much less developed than the east side in Crawley ancient parish. Much rural building in Ifield in the 19th and early 20th centuries was in the form of large gentlemen's houses, as Ifield, like neighbouring Rusper, became a place for moneyed people to reside in or retire to. Local facilities for sport, including the golf course nearby in Ashdown Forest, (fn. 79) were one attraction of the area in the early 20th century. Four inhabitants were listed as 'private residents' in 1866, 14 in 1874, 25 in 1895, and 34 in 1913. (fn. 80) Most such people seem to have been immigrants from elsewhere, for instance the Hon. Mrs. Montgomery, Lord Leconfield's daughter, who lived first at the Elms and then at Ifield Lodge, (fn. 81) Leslie Stuart, composer of Florodora, a later occupant of the Elms, (fn. 82) the horse breeder G. A. J. Bell of Woldhurstlea, who also had South American interests, (fn. 83) and O. M. Courage, a director of the brewing firm, who lived at the Mount on the Rusper border. (fn. 84) Deerswood, south-east of Ifield village, was the residence of Manaton Pipon, lord of a moiety of Ifield manor, in the mid 19th century, (fn. 85) and a later lord of the manor, Sir John Drughorn, Bt., lived at Ifield Hall. (fn. 86) The large house called the Beeches was built for himself by James Longley, founder of the building firm, beside his works near the railway station. (fn. 87)
Some such houses, for instance Deerswood, (fn. 88) were older houses rebuilt or enlarged, but most were completely new. Architectural styles used included Elizabethan at the Mount and Woldhurstlea, (fn. 89) Gothic at Goffs Park, (fn. 90) Italianate at Ifield Hall and the Elms, (fn. 91) and revived vernacular at Ifield Park (fn. 92) and elsewhere. There was often parkland attached; (fn. 93) at Goffs Hill south-west of Crawley town, an area particularly favoured because of its healthy situation and southward views, parkland belonging to the Elms and Goffs Park house extended continuously between the railway and the parish boundary.
After the 1930s most of the large houses on the outskirts of Crawley were either demolished (fn. 94) or became institutions: Ifield Lodge and the Elms before demolition respectively a hospital and a girls' school; (fn. 95) Ifield Park a nursing home and later a home for the elderly; (fn. 96) Ifield Hall first a Dr. Barnardo's home (fn. 97) and later a handicapped children's centre; and Goffs Park county council offices. (fn. 98) Much of the parkland was built over, but the grounds of Goffs Park remained as a public open space in 1985. (fn. 99)
Land was offered for building smaller houses on the edges of the Ifield manor estate in 1911. (fn. 100) During the 1930s Sir John Drughorn was attempting to develop the area between the village and the railway as a high-class residential estate. New roads were to be cut, and detached three- to five-bedroomed houses built, in Tudor style and of various plans, each plot having enough space for a tennis court. The advertised attractions of the estate were its rural character, access to London by railway, and the proximity of Ifield golf course laid out in 1927. Nineteen houses were built, but the development was stopped by the Second World War. (fn. 101)
Much of the eastern part of the parish was built over after the foundation of Crawley new town in 1947, but in 1985 the western part remained rural, Ifield village being open to fields on the west and south-west sides. The northern part then suffered much noise disturbance from Gatwick airport.
Nine tenants of Ifield manor were recorded in 1086. (fn. 102) In 1296 twenty-four inhabitants of Ifield vill were assessed to the subsidy, but some parishioners may have been included among the 34 assessed in Crawley vill; (fn. 103) the corresponding figures for Ifield and Crawley tithings in 1524 were 21 and 36. (fn. 104) In 1642 the protestation was signed by 117 adult male parishioners, (fn. 105) and there were 150 adults in 1676. (fn. 106) There were c. 70 families in 1724. (fn. 107) From 637 in 1801 the population rose steadily to 4,680 in 1931, most growth taking place in the urban part of the parish; between the 1810s and 1830s decadal increases were 16 per cent or over and between the 1860s and 1880s 25 per cent or over, the highest rate of increase (38 per cent) occurring in the 1880s. (fn. 108)
The former London-Brighton road which is formed by London Road, High Street, Crawley, and Brighton Road, is evidently old, since the former Ifield-Crawley boundary mostly followed it; it was also presumably the reason for the founding of the market and the putative 'new town' at Crawley in the late 12th or early 13th century. (fn. 109) In the mid 14th century it was described as the London-Shoreham road. (fn. 110) Money was left to mend the new 'causeway' (i.e. paved section of the road) between Crawley and Reigate in 1467, (fn. 111) and in 1696-7 the same section, across the Weald clay outcrop, was made Sussex's first turnpike road; its repair was to be overseen by quarter sessions, but the powers granted by the Act seem to have lapsed after the 20 years stipulated. (fn. 112) The point where the road crossed the county boundary on Lowfield heath was marked by a cross in 1595. (fn. 113) The road was a turnpike again, this time throughout the parish, as part of the Brighton road between 1770 and 1876; (fn. 114) there were two tollgates in the parish, North gate north of Crawley village, (fn. 115) and South gate near the Slaugham boundary in the south-east corner. (fn. 116) A ¾-mile section north of Crawley was widened in 1930-1, and the western bypass road for Crawley, planned at the same date, was built between 1935 and 1939; (fn. 117) a dual-carriageway road, it retained in 1985 much of its original landscaping by the local firm of Cheals. (fn. 118)
Two roads through the parish between Crawley and Horsham existed in 1724. (fn. 119) The more northerly took a winding course by way of Ifield and Rusper villages, following the modern Ifield and Rusper roads. It was mentioned in 1335 (fn. 120) and, as the Ifield- Rusper (fn. 121) or Crawley-Rusper road, (fn. 122) on other occasions in the 13th and 14th centuries. The second road, which followed the modern Horsham Road, existed apparently by 1561 (fn. 123) and possibly earlier: Goffs Lane, for the repair of which money was left in 1490, (fn. 124) was probably the section of the road which led over Goffs Hill. The second mentioned road was a turnpike between 1823 and 1873; (fn. 125) there was a tollgate on Goffs Hill. (fn. 126) Other roads mentioned in the parish before 1600 were Langley Lane; (fn. 127) a road from Ifield to Bewbush in Lower Beeding; (fn. 128) the Prestwood-Ifield road, probably one of the two modern roads to Charlwood; (fn. 129) and a road from Stanford or Stafford bridge, north-east of Ifield village, to Shiremark gate, evidently the other modern Charlwood road. (fn. 130) The modern Haslett Avenue, formerly Three Bridges Road, was called Worth Lane in 1830. (fn. 131) The roads on the clay portions of the parish were presumably as bad as elsewhere in the Weald; as late as 1903 it was claimed that over 200 parishioners had no road communication with Ifield church. (fn. 132) The courses of roads over the commons of the parish, particularly Ifield green and Lowfield heath, were fixed at inclosure in 1855. (fn. 133)
As the half-way point between London and Brighton, Crawley was well served by coaches in the late 18th and early 19th centuries. By 1793 there were two in each direction every weekday, (fn. 134) and by the early 1830s they were hourly. At the same date several carriers plied daily to London and Brighton, (fn. 135) but by 1845, with the opening of the railway station at Three Bridges, only a twice-weekly carrier to London remained. (fn. 136) The late 19th- and early 20thcentury revival of road transport quickly affected Crawley, (fn. 137) which by 1905 was said to be enlivened by an almost ceaseless traffic of motor cars, cycles, and coaches heading for the sea. (fn. 138) The noise and the clouds of dust created were adversely remarked on in 1912. (fn. 139) By 1922 there was a service of buses to Handcross (in Slaugham), Horsham, and Croydon (Surr.), and by 1927 another service to Horsham passed through Ifield village. (fn. 140) In the 1930s the town was within the orbit of the London Passenger Transport Board, which had a bus depot on the east side of High Street. (fn. 141)
From 1841 the parish was served by the London- Brighton railway line, with a station at Three Bridges 1¼ mile east of Crawley. The Three Bridges to Horsham railway line was opened through the parish in 1848, with a station named Crawley in Ifield parish east of the London-Brighton road. (fn. 142) By 1853 there were six passenger trains a day with connections to London, and by 1859 eight; (fn. 143) c. 1860 the journey to London took 65 minutes, (fn. 144) and in 1922 about the same. (fn. 145) The line was electrified in 1938. (fn. 146) A new station, 300 yd. east of the old one, and crowned by a six-storeyed office block, was opened in 1968, the old building being demolished. (fn. 147) Ifield station was opened in 1907 as Lyons Crossing halt, becoming Ifield halt later the same year and receiving its modern name in 1930. (fn. 148)
There were two inns in Ifield village in 1985. The Plough or Old Plough existed by 1833, (fn. 149) its original building being replaced c. 1910 by another immediately to the east. (fn. 150) The Royal Oak on the east side of Ifield green apparently also existed by c. 1910. (fn. 151) The Gate inn at the west end of the parish, which also survived in 1985, existed by 1870. (fn. 152)
The chief inn in the parish, however, has always been the George, on the west side of Crawley High Street, recorded as an inn from 1579. (fn. 153) In 1690 the building contained a hall, two parlours, and at least eight chambers, besides offices. (fn. 154) In the early 19th century, lying as it did half way between London and Brighton, the George was one of the chief Sussex coaching inns. (fn. 155) In 1845 it was described as a commercial inn and hotel; horses and carriages could be hired there in 1874; and in 1882 the landlord was also a wine and spirit merchant. (fn. 156) The inn was a place for holding auctions in the late 18th century. (fn. 157) In the early 20th it gained an increased trade from the revival of road transport. The building was restored and refurbished before 1910, when it was being patronized by both motorists and cyclists. (fn. 158) By 1918 it belonged to the Home Counties Public House Trust Co. Ltd., a forerunner of Trusthouse Forte (U.K.) Ltd. (fn. 159) Despite many later alterations the building (fn. 160) retains the plan and some of the walls of a probably late medieval timber-framed structure, which had a central hall with a service wing to the north; the parlour to the south, with a four-centre-arched stone fireplace, was the entrance hall to the hotel in 1985; the date 1615 on the fireplace is probably not original. Further south are other 16th- or early 17th-century buildings, part of which may already have been incorporated in the inn by 1690. The canted bays and sash windows in the street front are 18th- or 19th-century. Many of the interiors date from the early 20th-century restoration. An assembly room existed by 1880. (fn. 161)
Further north on the west side of the Crawley- London road by 1874 was the Sun inn. The Station inn, later hotel, renamed c. 1885 the Railway hotel, and in 1969 the Rocket, was opened on the east side of Brighton Road but in Ifield parish before 1852; in 1855 it was a posting house, and in 1862 the landlord was licensed to let horses. In 1895 it was described as a family and commercial hotel, where French was spoken. (fn. 162) Possibly from the beginning it contained an assembly or concert hall, and in the early 20th century large stables and a coach house, which were succeeded by a motor garage. (fn. 163) The Bricklayers Arms beside West green was recorded in 1855, (fn. 164) on the site occupied from c. 1900 by the Swan inn. (fn. 165) Another beer retailer was mentioned in Rusper Road in the 1860s. (fn. 166) The Crown inn at West Green existed by c. 1900. (fn. 167)
Cricket was played on Ifield green apparently by 1721 and certainly by the 19th century, as it has continued to be. The Ifield cricket club was founded in 1804 and survived in 1985. Matches were also played in the late 18th century on Langley green. (fn. 168) In Crawley Mark Lemon was largely responsible for the organization of a cricket club in the 1860s; (fn. 169) there was a cricket field at the north end of the town in 1868. Athletic sports were held in Crawley at the same date, (fn. 170) and the Crawley athletic club was formed in 1897; in 1907 there were annual meetings, (fn. 171) apparently in East Park south-east of the railway station. (fn. 172) A bowling club, with a green behind the George, was founded c. 1913. (fn. 173) It moved probably in 1920 or 1921 to a site in Three Bridges Road, (fn. 174) and became the Crawley bowling and tennis club. (fn. 175) A Crawley cycling club existed by 1895. There were two football clubs in Crawley in 1895; (fn. 176) by 1946 the Crawley football club played on the ground west of High Street (fn. 177) that still existed in 1985. Football was also played on Ifield green by 1922, (fn. 178) and in 1984.
At inclosure in 1855, 11 a. of Ifield green were reserved for recreation. (fn. 179) A piece of land at West Green was granted from Ifield manor for the same purpose in 1881. (fn. 180) A recreation ground of c. 7 a. in Three Bridges Road (later Haslett Avenue) east of Crawley town was opened in 1920 as the war memorial of Crawley and Ifield parishes; (Sir) John Drughorn, then or later lord of the manor, was the largest subscriber to the cost. Football and cricket were played there. (fn. 181)
Ifield golf course, of 131 a., in the south-west part of the parish, was laid out by Sir John Drughorn in 1927. In 1943 there were attached to it four tennis courts and two squash courts, the grass of the greens being grazed by the sheep of the tenant of Ifield Court farm. (fn. 182)
Several musical organizations flourished in Crawley in the mid 19th century, when the combined church choirs of Crawley and Ifield gave winter benefit concerts with ambitious programmes. (fn. 183) The Station, later Railway, hotel could accommodate such events, (fn. 184) and there was also an assembly room at the George by 1880. (fn. 185) Moses Nightingale, a local corn merchant, founded the Hazeldene orchestra in 1884, which gave concerts under his direction for the Crawley and Ifield harmonic society until 1902; the orchestra still flourished in 1931. (fn. 186) A Crawley town band was formed apparently in 1861, and a West Crawley band in 1900; in 1922 both played alfresco on Saturday evenings. At the latter date there was also a Crawley and Ifield choral society. (fn. 187) The former Railway hotel remained a venue for live entertainment in 1983. (fn. 188) Numerous other clubs and societies flourished in Crawley in the early 20th century, for instance a branch of the Primrose League in 1916, (fn. 189) and a debating society in 1927. (fn. 190)
The Imperial picture theatre in Brighton Road was opened c. 1910. (fn. 191) After being burnt down in 1928, it was rebuilt as the Imperial cinema, and after the Second World War became first an auction room and then a car showroom. The Embassy cinema on the west side of High Street was opened in 1938 (fn. 192) and survived in 1985.
An Ifield church institute existed at West Green in the 1890s, when members paid 2d. a week. (fn. 193) A parish hall in Ifield village was built in 1922 at the expense of Dr. and Mrs. Mosse of Old Park House; it was sold to freemasons c. 1962. (fn. 194) Ifield Association, founded to foster community activities in 1945, survived in 1985. (fn. 195) A barn on the north side of Ifield church was converted in 1973 as the Ifield Barn theatre, seating 85; visual arts exhibitions were also held there. (fn. 196)
Mark Lemon, the first editor of Punch, lived at Vine Cottage on the west side of Crawley High Street between 1858 and his death in 1870, and is buried in Ifield churchyard; from Crawley station, a short distance from his house, he travelled to London two or three times a week. Besides instigating the volunteer fire brigade, he organized amateur concerts and theatricals, penny readings, and two art exhibitions, at one of which his friends Maclise and Frith were represented; for those and other activities he earned the title 'Father of Crawley'. (fn. 197) Francis Thompson the poet (d. 1907) often visited the Capuchin friary. (fn. 198) The 'acid bath' murderer John Haigh disposed of at least three of his victims in a building in Leopold Road, off Ifield Road, in 1948-9. (fn. 199)
Footnotes
Pages 60-63
A History of the County of Sussex: Volume 6 Part 3, Bramber Rape (North-Eastern Part) Including Crawley New Town. Originally published by Victoria County History, London, 1987.
A P Baggs, C R J Currie, C R Elrington, S M Keeling and A M Rowland, 'Ifield: Manors and other estates', in A History of the County of Sussex: Volume 6 Part 3, Bramber Rape (North-Eastern Part) Including Crawley New Town, ed. T P Hudson (London, 1987), pp. 60-63. British History Online http://www.british-history.ac.uk/vch/sussex/vol6/pt3/pp60-63 [accessed 21 July 2021].
MANORS AND OTHER ESTATES.
IFIELD manor was held by Alwi in 1066, and by William son of Rannulf of William de Braose in 1086. (fn. 1) The overlordship continued to belong to the lords of the rape. (fn. 2) The early medieval descent is fragmentary. (fn. 3) Robert Bonet, who gave Ifield church to Rusper priory c. 1200, may also have held the manor. (fn. 4) Edmund de Valle in 1273 settled a messuage and 100 a. in Ifield, together with land in Kingston by Sea, on Thomas of Warbleton, Hugh de Buci putting in his claim. (fn. 5) In 1313-14 the same or another Hugh de Buci settled the manor of Ifield, so called, on Lucy, widow of Robert de Buci, as her dower. (fn. 6) Hugh's two daughters and heirs Sibyl, wife of John de Lislebonne, and Joan, wife of William of Fyfield, each apparently held a moiety of the manor in 1348, (fn. 7) and 172 a. in Ifield which may represent the Lislebonne moiety were settled on Fyfield in 1357- 8. (fn. 8) Joan, widow of Sir John Foxley, perhaps the Joan mentioned, gave up her claim to dower in the manor of Ifield in 1379. (fn. 9)
In 1387 Sir Richard Poynings died seised of the manor; (fn. 10) the Poynings family were already lords of neighbouring Crawley, (fn. 11) and Thomas of Poynings had received a grant of free warren over lands in Ifield in 1328. (fn. 12) After 1387 the manor descended with Poynings (fn. 13) until 1531, when Henry Percy, earl of Northumberland, settled it on Sir Thomas Nevill, (fn. 14) whose daughter Margaret and her husband (Sir) Robert Southwell (fn. 15) had it in 1542. In 1545 they settled it on Edward Shirley (fn. 16) (fl. 1554). (fn. 17) Thomas Shirley had it in 1566; (fn. 18) at his death in 1579 he was succeeded by his son John, (fn. 19) later Sir John, who in 1617 conveyed it to Sir Walter Covert (fn. 20) (d. 1632), then or later his son-in-law. Sir Walter's niece and heir Anne, widow of Walter Covert of Maidstone (Kent), (fn. 21) died later in 1632, and was succeeded by her son Thomas. (fn. 22) John Covert was dealing with the manor in 1649. (fn. 23)
Denzil Holles, (fn. 24) created in 1661 Lord Holles of Ifield, married Jane, widow of Sir Walter Covert, and was dealing with the manor in 1659. (fn. 25) Formerly a strong opponent of Charles I, he was employed in the 1660s as a diplomatist. He was apparently living at Ifield by 1662, from which date members of the family were buried there. (fn. 26) At his death in 1680 the manor passed to his son Francis, Lord Holles (d. 1690), whose son and heir Denzil, Lord Holles (d. 1694), was succeeded by his cousin John Holles, earl of Clare and from 1694 duke of Newcastle (d. 1711). John's heir was his nephew Thomas Pelham-Holles, later duke of Newcastle. By 1739 (fn. 27) Ifield had passed to Newcastle's brother Henry Pelham (d. 1754), whose heirs were his four daughters. (fn. 28) One of them, Frances, was described as sole lady of the manor in 1770; (fn. 29) c. 1786 she sold Ifield to Thomas Dennett (fn. 30) (d. 1793 × 1801). (fn. 31)
Dennett's daughter Anne married Capt. the Hon. Robert Rodney, R.N. (d. 1826), whose son and heir Robert succeeded in 1846 as Lord Rodney and died in 1864. (fn. 32) In 1844 over 1,300 a. in the parish belonged to the Rodney estate. (fn. 33) The manor was later in two moieties, one belonging to Lord Rodney and later to his widow Sarah (d. 1882), and the other to his sister Anne and her husband Maj. Manaton Pipon (d. 1881). (fn. 34) By 1887 both moieties had passed to Lord Rodney's daughter Patience (fn. 35) and her husband R. W. D. Harley, who in 1889 sold Ifield manor, with Ifield Court farm, to William Wood, tenant of the farm since 1856; (fn. 36) Wood still owned both in 1894, (fn. 37) but had died by 1896. (fn. 38) R. N. S. Lewin, a relation of the owners of the rectory, (fn. 39) had the manor in 1905 and apparently in 1909; (fn. 40) the farm belonged to Ronald W. Selby in 1916, and to Messrs. Selby and Nevill in 1917. (fn. 41) Sir John Drughorn, Bt., was lord by 1922, but lived at Ifield Hall rather than Ifield Court both then and later. (fn. 42) At his death without surviving male issue in 1943 the Ifield manor estate, comprising 1,268 a., was sold to Mr. J. A. Farmer (fl. 1986). (fn. 43)
A house on Ifield manor was mentioned in 1387, (fn. 44) and a moated house in 1529. (fn. 45) By 1835 it had become a farmhouse called Ifield Court occupying the northern corner of the moat; (fn. 46) it was burnt down before c. 1875. (fn. 47) The moat survived in 1985, when the area within it was rough grass; (fn. 48) also then surviving were a group of farm buildings to the north, including a probably 16th-century barn. (fn. 49) A new house east of the moat in revived vernacular style had been built by c. 1875; it was enlarged in the early 20th century, (fn. 50) and after c. 1970 was used as a hotel. (fn. 51)
The manor of BONWICKS was held of Ifield in 1566. (fn. 52) A Walter of Bonwick owned land possibly in Ifield in the 13th century, (fn. 53) and a yardland, 46 a., and rents in Ifield were settled on John Bonwick in 1381-2. (fn. 54) The 110 a. of land together with rents in Ifield settled on Thomas Fenner in 1506-7 (fn. 55) may have been the same, since John Fenner died seised of Bonwicks c. 1513. John's estate, subject to the life interest of his daughter-in-law Anne, then the wife of Thomas Culpeper, descended to his grandson John, (fn. 56) presumably the John Fenner who died seised of Bonwicks manor, then first so called, and 320 a. in Ifield and Rusper in 1566, leaving as heir his son Dudley. (fn. 57) Thomas Gage was said to be lord in 1579. (fn. 58) Edward Baron or Barnes was dealing with the manor between 1623 and 1643, and Jane Baron or Barnes in 1645, when it was settled on Richard Arnold. (fn. 59) By 1666 Thomas Arnold had it, (fn. 60) and in 1718 another Thomas Arnold, (fn. 61) presumably the same man who sold it to Michael Wood in 1729, when its demesne comprised 227 a. (fn. 62) Thereafter the descent is lost until 1771, when Henry St. John, who had Bonwicks in right of his wife, devised it to his daughter Susanna Wigsell (d. 1779). Her son Attwood Wigsell was lord in 1786, and was succeeded in 1795 by his brother the Revd. Thomas Wigsell (d. 1805). In 1806 Bonwicks was sold by Thomas's heirs to William Cutler (d. 1837), (fn. 63) who was a chief landowner in the parish in 1830, (fn. 64) and resided there. (fn. 65) Another William Cutler was dealing with the manor in 1838, (fn. 66) but by 1844 the farm had passed to George Birch. (fn. 67) A Mrs. Birch, perhaps his widow, was living at Bonwycks Place in 1855. (fn. 68) In 1881 the farm was sold to George Trist (d. 1884). (fn. 69) Francis Allen owned the estate between 1900 and 1919, when he sold it to H. A. Baxter. He sold it after 1922 to Alexander Graham Lawrence, Lord Lawrence, who sold it c. 1940 to a Mr. Forbes. About 1960 it was again sold to a speculator, afterwards being divided up. (fn. 70)
A house on Bonwicks manor was mentioned in 1566. (fn. 71) The main range of the present Bonwycks Place is a tall brick 17th-century building with a projecting stair turret at the back; the staircase is original. A lower service wing extended northwards from its west end. (fn. 72) That range was rebuilt when the house was refitted in the earlier 20th century, and further additions were made after 1970.
The manor of PRESTWOOD perhaps represents former demesne woodland of Rusper priory (fn. 73) broken up for cultivation during the Middle Ages. Four yardlands at Prestwood and elsewhere were held of Bramber rape by the priory in 1368, when Roger Atwater held another ½ yardland also called Prestwood. (fn. 74) The priory retained its lands until the Dissolution. Thomas Shirley and Thomas Michell leased them for 60 years in 1534, and in 1537 the Crown granted the reversion of Prestwood manor, then first so called, to (Sir) Robert Southwell and his wife Margaret, (fn. 75) who granted it back in 1546. (fn. 76) John Shirley was said to be lord in 1579. (fn. 77) In 1590 the Crown granted Prestwood, with the Nunnery estate in Rusper, to John Cowper. (fn. 78) Richard Cowper died seised of it in 1592, and in 1608 his son and heir Sir Richard Cowper conveyed it to John Middleton (fn. 79) (d. 1636). Middleton's son and heir Thomas (fn. 80) suffered trespass from a riotous assembly at Prestwood c. 1642. (fn. 81) In 1650 his son-in-law Bray Chowne claimed to hold the manor on a 1,000-year lease, having entered on the premises 18 months before. (fn. 82) In 1662, however, Middleton conveyed it to Richard Arnold. From 1666 the manor descended with Bonwicks until 1717 or later. (fn. 83) The lands are then said to have passed, by sale and inheritance, to a Mr. Dungate of Mayfield, who held them in right of his wife in 1777. (fn. 84) John Fuller had them in 1799, (fn. 85) and the same or another John Fuller, who was one of the chief landowners in the parish in 1830, (fn. 86) devised them at his death in 1839 to his son John Bird Fuller. The latter in 1856 conveyed Lower and Little Prestwood farms, of 139 a., to John Wood, after whose death they were sold in 1864 to George Trist (d. 1884), whose successor G. A. Trist offered them for sale in 1927. (fn. 87) The later history has not been traced.
Lower Prestwood Farm, apparently the former manor house, is an 18th-century painted brick building of two storeys; there are later extensions on the east side. The farm buildings include an 18thcentury timber-framed barn.
The reputed manor of LANGLEYS, so called by 1594, (fn. 88) presumably derived from land held by members of the Langley family in the Middle Ages. (fn. 89) Thomas Shirley, lord of Ifield manor, died seised of land called Langley in 1579. (fn. 90) Thomas Jordan was dealing with the manor between 1594 and 1603. (fn. 91) The lands later became part of the Ifield Court estate. (fn. 92)
The RECTORY estate originated in the grant of Ifield church to Rusper priory c. 1200. (fn. 93) It was valued at £10 in 1291; (fn. 94) in 1341 it included 36 a. of glebe, (fn. 95) which presumably corresponded to the 40 a. on the west side of Ifield green mentioned in 1636. (fn. 96) Between 1534 and 1544 the rectory descended with Prestwood; (fn. 97) in the latter year Sir Robert and Margaret Southwell conveyed it to Edward Shirley, (fn. 98) who in 1554 granted it to his son John. (fn. 99) The same or another John sold it in 1607 to Sir Thomas and Henry Bludder; (fn. 100) the latter at his death in 1645 devised it to his brother-in-law Henry Peck of Lewes (fn. 101) (d. 1675 or 1676), whose son and heir Henry (d. c. 1680) was succeeded by his son John (d. 1688). John's brother and heir Henry (fn. 102) (fl. 1714) (fn. 103) may be the Mr. Peck described as impropriator in 1724, (fn. 104) but had been succeeded before 1733 by John's unmarried sister Anne (d. by 1735), who devised the rectory to another sister Martha Harsnett (fn. 105) (d. c. 1741). Her heir Nicholas Spencer (fn. 106) (fl. 1762) devised it at his death in 1783 to his daughter Martha, wife of James Lewin. Their son Spencer James Lewin, vicar from 1790, (fn. 107) had it c. 1830, (fn. 108) when the lands totalled 57 a. (fn. 109) At Lewin's death in 1842 he was succeeded by his son Francis E. Lewin (d. 1850), (fn. 110) from whom the rectory passed first to Thomas and Henry Lewin (fl. 1855) (fn. 111) and then to Thomas's widow Mary Emily Lewin (d. 1909). In 1913 her executors conveyed a moiety to the Commonwealth Investment Co., which sold it in 1920 to British and Continental Estates Ltd., from whom it was acquired by Sir John Drughorn (d. 1943). (fn. 112) After c. 1952 it belonged to Mr. J. A. Farmer. (fn. 113)
No rectory house is known before the existing one was built in the early 19th century. Described in 1830 as a competent residence, (fn. 114) it is a stuccoed, two-storeyed building in classical style with deep projecting eaves.
Various members of the Ewhurst or Eworth family were recorded locally in the Middle Ages, including William, who was dealing with ½ yardland in Ifield in 1273, (fn. 115) Thomas, who was taxed in Ifield vill in 1332, (fn. 116) and William, who held ¼ fee in Ifield of Bramber rape in 1368. (fn. 117) Their lands seem likely to have been what was later EWHURST PLACE FARM. William Sidney was dealing with 800 a. in Ewhurst (presumably in Ifield), Crawley, and elsewhere in 1447-8. (fn. 118) Between 1631 and 1645 Ewhurst descended with Ifield manor, (fn. 119) as apparently again in the mid 18th century (fn. 120) and certainly between 1821 and 1888. In the latter year R. W. D. Harley and his wife Patience sold the farm, then comprising 194 a., to Philip H. Rawson, who sold it in 1904 to Henry Longley, who still had it at his death in 1922. (fn. 121) From Longley's daughter and heir Ann it passed in 1923 to H. T. Gardner, who sold it in 1932 to Antonio Gordon. The estate was afterwards split up. (fn. 122)
Ewhurst Place (fn. 123) comprises the north and part of the east range of a red brick, timber-framed, and partly tilehung 16th- or early 17th-century house occupying the northern portion of a rectangular moated site of which the moat survived complete in 1985. Foundations of canted bays in the north arm of the moat evidently belong to an earlier building of which there is no other record. The size and scale of the present house indicate a building owner of importance and, in view of the poor agricultural potential of the parish, one with income from elsewhere; he is, however, unknown. The east range contained the hall, of which one moulded screenspassage door and part of another survived in 1985, and the north range the service rooms, including a kitchen at the east end, together with a living room at the west end which has 17th-century panelling; there may have been a corridor along the south side of the range to give access to the latter. There is evidence that the third storey of the north range was intended to be a long gallery, but was perhaps not completed as such. The north side of the north range has three wide external chimneystacks rising directly from the moat, and had at one time a projecting staircase with gabled roof. (fn. 124) The main living rooms were presumably in the destroyed south range, of which foundations survived in 1985 along the south arm of the moat. The building had been reduced to its present size by c. 1840. (fn. 125) It has since been much restored.
The moat is crossed by an 18th-century brick bridge and two timber bridges. (fn. 126) The large garden outside the moat was mostly under rough grass in 1985; it contains dry ditches north and south-east of the moat which may represent remains of an outer moat.
One or more men called John of Ifield held lands in the parish in the early 14th century. (fn. 127) The lands were apparently called a manor in 1339 (fn. 128) and free warren was granted over them in 1317, (fn. 129) but they have not been located.
Sele priory in Upper Beeding owned land in the parish in 1477-8. (fn. 130)
JORDANS FARM on London Road belonged to John Hughes in 1791 and Isaac Hughes in 1805. Matthew Buckle, who had it in 1808 (fn. 131) and 1844, (fn. 132) was described as one of the chief landowners in the parish in 1830. (fn. 133) The farmhouse was bought by the A.P.V. Co. Ltd. for a club house in the 1950s. (fn. 134)